My Boyfriend's Meds (Las pildoras de mi novio)

(R)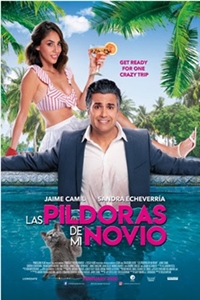 Release Date:
February 21st, 2020
Run time:
1 hr. 40 min.
Director:
Diego Kaplan
Genres:
Comedy
Starring:
Jaime Camil, Sandra Echeverría, Ana Belena, Brian Baumgartner
Jess, a talented, high-powered marketing executive, falls for Hank, a charming mattress store owner she meets while shopping for a new mattress. Hank's charm and good looks make Jess believe he is "Mr. Right," but Hank actually suffers from multiple disorders for which he takes what seems like an endless assortment of prescription medications. On the night Hank decides to reveal his issues to Jess, she surprises him with an invite to accompany her on a business retreat to an island resort. Surprised by this next step in their relationship, he keeps his secret a little longer. After arriving at the remote island, Hank is horrified to discover that he doesn't have his meds. Comedy and chaos ensues as Hank is no longer able to control his various symptoms.